We teach a variety of literary, film, and other texts, from international and interdisciplinary perspectives. Our curriculum goes beyond any single national culture to explore relations between various texts, cultures, and historical contexts.
Undergraduate Information Day (2022-23)
Mock Lecture by Dr. Daniel Vukovich
The booth of the Department of Comparative Literature
Undergraduate Information Day Video (2021-22)
Undergraduate Information Day Video (2020-21)
browse 2022-23 course offerings
Origins of Cinema & Preserving Film Heritage – Seminar and a 16mm film screening of The Rink (1916) with live music [TBC]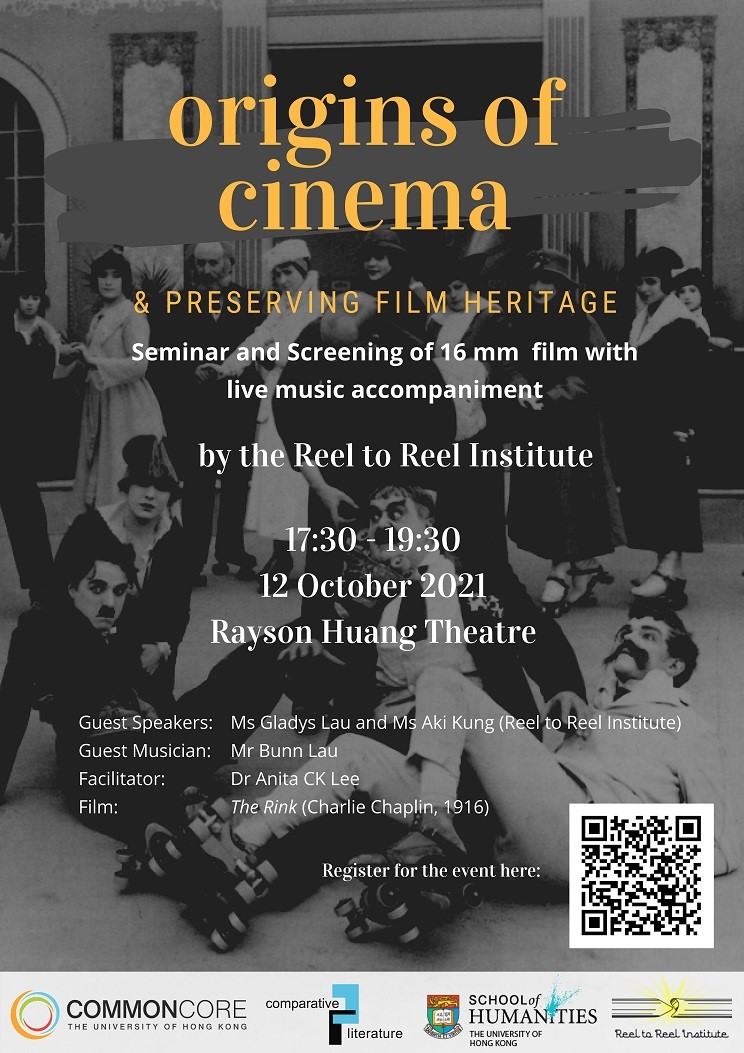 Qiu Miaojin: Textuality, Visuality, and Desire in Global Circulation [Dec 4, 2021 (Saturday) at 09:00-17:30 (HKT)]
Moderator: Dr. Alvin K. Wong (Department of Comparative Literature, The University of Hong Kong), Pei-yin Lin, Calvin Hui, Professor Nicole Huang (Department of Comparative Literature, The University of Hong Kong), Grace Ting (Gender Studies, The University of Hong Kong)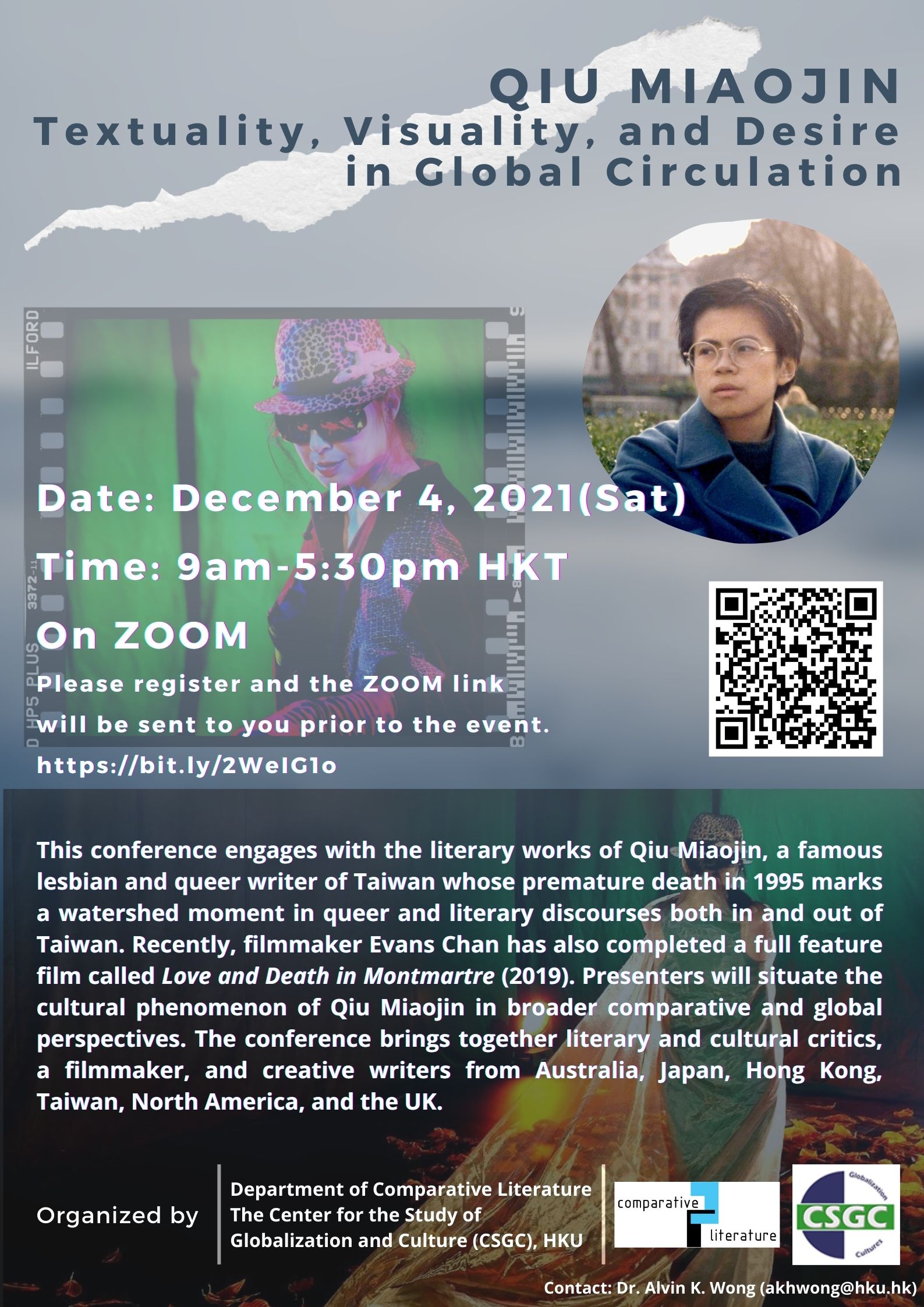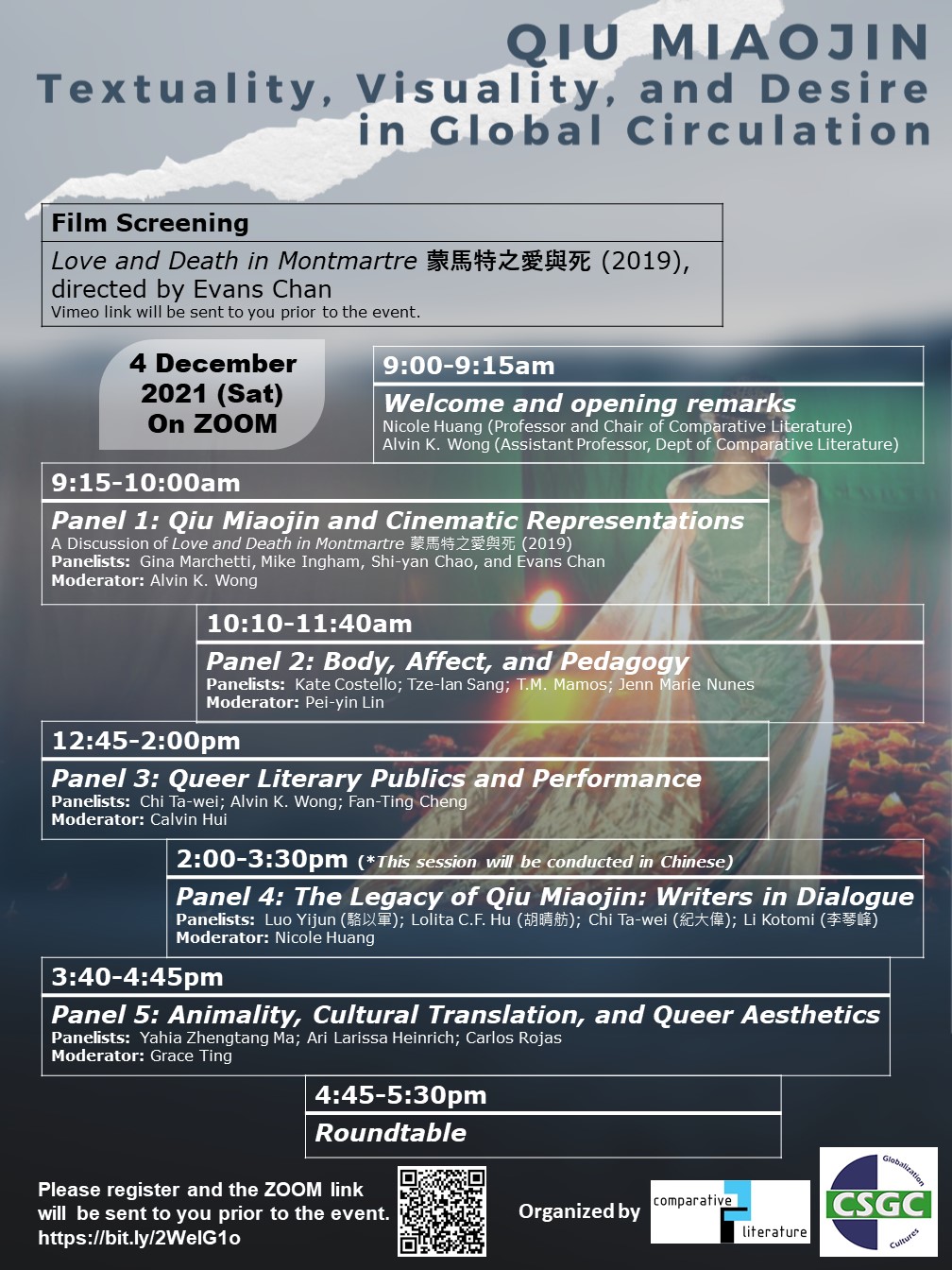 Exploring Self and Cosmos on a Mountain: Petrarch's 'Ascent to Mont Ventoux' and Chinese shanshui 山水 Poetry [July 5, 2021 (Monday) at 3:00p.m.]
Speaker: Dr. Beth Harper (Post-doctoral Fellow, The University of Hong Kong)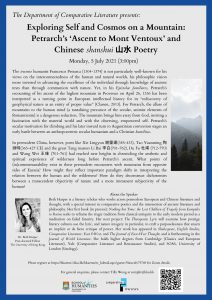 Seeing in the Dark: Apichatpong Weerasethakul and the Turn to Sleep [May 11, 2021 (Tuesday) at 9:30a.m.]
Speaker: Professor Jean Ma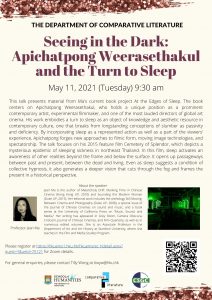 Cinema as Soft Power [May 10, 2021 (Monday) at 9:30a.m.]
Speaker: Professor Song Hwee Lim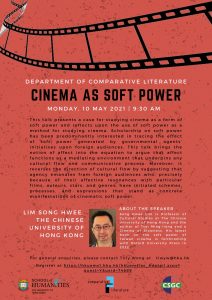 HKU MOOC: HONG KONG CINEMA THROUGH A GLOBAL LENS [Register now for September 8 opening!]
To accommodate your needs, and expand your menu of online teaching and learning options, we are offering Hong Kong Cinema through a Global Lens, the first MOOC (Massive Open Online Course) on Hong Kong cinema to be produced anywhere in the world, as a learner-paced course.  That means all six units open simultaneously on September 8, 2020…
CONFERENCE | [POSTPONED,  DETAILS TBC] QIU MIAOJIN: TEXTUALITY, VISUALITY, AND DESIRE IN GLOBAL CIRCULATION
This conference engages with the literary work of Qiu Miaojin, a famous lesbian writer of Taiwan whose premature death in 1995 marks a watershed moment in queer and literary discourses both in and out of Taiwan. This conference takes the specific case of Qiu's lifework to investigate how the mobility of queer desire enables a kind of cross-genre, transmedial, and transnational mode of textuality. Furthermore, it raises the question of why a queer Sinophone author like Qiu attracts such a global readership. In short, it suggests that the Qiu Miaojin cultural phenomenon provides a specific case for interdisciplinary engagement across literary studies, cinema studies, gender studies, and transnational theory.
CALL FOR PAPERS | ASIAN WOMEN FILMMAKERS ON GLOBAL SCREENS: NETWORKS, CIRCUITS AND COMMUNITY CONNECTIONS
Women filmmakers are severely underrepresented in general film distribution (theatrical and auxiliary), film festivals and awards: a phenomenon that adversely affects the visibility of female filmmakers from Asia. However, there has been little concrete investigation into the mechanisms that underpin the status quo. Through engaging international specialists on women in film, this conference seeks to dissect the system, pinpoint the weak spots and identify a possible remedial course of action toward improving the situation of women filmmakers.